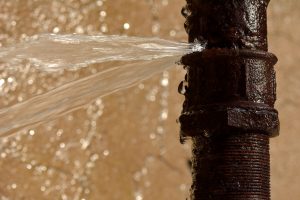 Winter is coming, and that means freezing cold weather will descend upon your home. A good heating system can keep you warm and comfortable, but other aspects of the household require attending to as well. Frozen pipes and burst pipes, in particular, are a danger this time of year. And they can strike without warning at any time: even in the middle of the night or while you and your family are away for the holidays. That can turn a comparatively minor household nuisance into a major problem in the blink of an eye.
The best solution to such an issue is to have a trained plumber install an automatic shut-off valve in your home. While it takes a proper plumber with the right training to do so, it can make all the difference in the world when trouble comes calling. Now is an ideal time to schedule an installation, before the temperatures get too cold.
The Dangers
Automatic shut-off valves are designed to handle any kind of breach or leak in your system, no matter what the time of year. If you have older pipes in your home, then leaks become increasingly likely and the more safeguards you can add to your home, the better.
But the dangers in winter become much worse, when the problems of frozen pipes are an everpresent danger. Frozen pipes are simply pipes that contain frozen water — something that happens most often in uninsulated parts of the plumbing, or parts that run along vulnerable parts of the house (such as an outside wall). Water expands when it freezes, which puts enormous pressure on the interior of the pipe itself. While a frozen pipe will simply halt the flow of water until it warms up again, a burst pipe will create a huge mess: spraying ice and freezing water across nearby materials and continuing to leak until the water flow is turned off.
Imagine that happening in the middle of the night on the coldest day of the year. Or Christmas morning while you and your family are staying with a relative. It's an unpleasant possibility, but it happens quite often in the Boston area, and if you don't prepare for it, it can cause considerable damage.
Automatic Shut-Off Valves
Every home has a shut-off valve to the main water line, that you and your family should know how to use. It works fine when someone is at home and spots a problem. Automatic shut-off valves go a step further, however, and automatically stop the flow of water the moment they detect a significant pressure change in the pipes. Not only does that mitigate the damage of frozen and burst pipes, but it immediately alerts you to the problem and lets you call in a plumber to get the matter resolved properly.
If you want an automatic shut-off valve in your Boston, MA home, or you already have such a valve and it needs repairs before winter, call the friendly pros at Cooling Unlimited to get it taken care of!