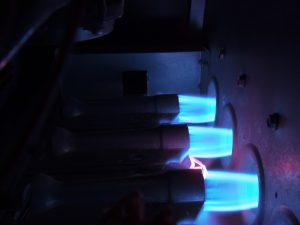 When your furnace has trouble functioning, even if it doesn't seem like it's a huge problem, it's a good idea to shut it off and call in a heater repair service immediately. Few serious repair jobs take place without giving you warning signs well in advance, and the sooner you can get a trained technician to address these issues, the better.
The same principle applies to furnaces that don't seem to have anything wrong with them, but which aren't functioning as effectively as you think. Heater repair services can address inefficient furnaces just as well as the repair more pressing problems, and allow you to keep your home warm no matter what the weather is doing outside. Now is the perfect time to do so, before the weather gets too much colder. That will allow you to enjoy a problem-free furnace all winter.
Signs of Inefficiency
We invariably pay higher heating bills in the winter than we do in the fall or spring, since the weather is colder and we have more need for reliable heating. But those higher bills can often hid the fact that you're paying more than you should for reliable heating. It pays to check for signs of inefficiency in your system, which you can do simply by paying attention to any changes in your furnace's functioning. Signs of trouble can include, but are not limited to, the following:
Higher Bills. The most obvious sign of growing inefficiency is an unexpected spike in your monthly heating bills, especially if you haven't used your heater any more often than you normally would.
Low Air Flow. Clogs or problems with the fan motor are among the chief causes of low air flow, which forces your system to work harder than it should to warm your home.
Low Heating Levels. Clogged burners, uninsulated lengths of duct and breaches in the ducts themselves can lower the amount of heat your system produces. As with low airflow, that will slow down the speed at which your heater warms your home.
Call in a Professional
When you spot these signs, it pays to call in a professional to resolve it. Even though the system itself will likely continue to function, the problems will generally get worse and worse: which not only raises your monthly bills still further, but can increase the chances of a more serious breakdown in the future. The sooner you can get a technician on the issue, the less likely that is to happen and the greater your savings will be on the whole.
Even better, you can schedule a maintenance session from a trained technician to give your system a thorough looking over. That allows him or her to pinpoint any issues that may interfere with efficiency, and correct them without a second session if they're suitably minor. (More significant issues will require a separate session to address.) That way, you can always be sure your system is performing at optimum levels no matter what.
For quality furnace repair and maintenance in Boston, MA, call on Cooling Unlimited, Inc. today!