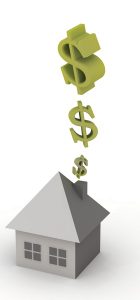 You're relying on your heater more than ever now that we're in the middle of a cold Boston winter. While your heating bill will be a little bit higher during this time of year just because you're running the system so often, it should never skyrocket to unreasonable levels. If your heating bill is draining your wallet this winter then make sure to contact our team. We can help you find weak points in your home's efficiency levels and lower your heating bill.
One of the best ways to lower your heating bill during our chilly winter season is by installing a humidifier. Don't think of humidity as a bad thing just because of our balmy Boston summers, try a humidifier in Boston, MA today.
How Humidity Helps
So, the first step to understanding why you might need a humidifier in your home is understanding humidity. Humidity is an ally to the dry winter air. Air that is chronically dry is just as bad for you as air that's too muggy, but the negative effects of dry air often spring up during winter and aren't always recognized as indoor air quality problems. If you're suffering from constant colds or sinus issues, it's likely that it isn't just a bad cold or flu strain going around—you probably have poor indoor air quality that's making these symptoms worse.
The other major downside to poor quality dry air in your home is the drop-in efficiency levels. Humidity is such an asset because it helps you feel warmer with a lower thermostat setting during winter and as you probably know, setting your thermostat to a mild temperature when heating allows you to save money on your heating costs. So what are some ways to boost your home's efficiency in winter?
Tips to Boost Efficiency
Install A Humidifier: As we mentioned above, installing a humidifier is a great way to take the strain off of your heating system. If you'd like to save money and boost the quality of your home's IAQ then make sure to inquire about a whole-home humidifier from one of the experts on our team. This is one of the best options to improve your home's efficiency here in Boston, but if you're looking to go the extra mile we've listed some other ways to boost your HVAC efficiency too.
Upgrade Your Thermostat: If you have a manual or even a merely digital thermostat in your home it's time for an upgrade. Smart thermostats are the leading thermostat technology on the market—they learn how you like to heat and cool your home and work to save you money. We're experts in installing and servicing these systems so contact our team if you're interested.
Consider Upgrading: If you're really having trouble with your heating system then it might be time for an upgrade. We understand that this is a big and often expensive step, so contact our team to make sure it's the necessary one for your home before making any decisions. If it's time for an upgrade we'll help you find the best make and model for your needs, size it, and install it flawlessly in your home.
If you're looking to save money on your heating bill this winter then we're here to help. We can flawlessly install a humidifier in your Boston home. Contact Cooling Unlimited, Inc. this winter.