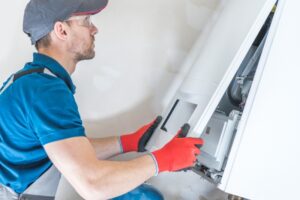 As you start to enjoy the relief from heat that autumn brings, and you use your air conditioner less and less, it may be tempting to imagine that winter is still far in the future. But you shouldn't let the cold weather catch you unprepared.
If you schedule your furnace maintenance in Boston right away, you'll be able to reap some significant benefits, and you can rest easy in the knowledge that your home is prepared for when that winter weather hits. What are those significant benefits, exactly? Here are seven reasons to schedule a fall inspection for your furnace now.
1: Safety
The most important reason to make sure your furnace is inspected before you start it up for the season is safety. The main risk here is carbon monoxide, which can be deadly in large enough amounts. Our technician will make sure that your furnace runs safely, without any hazardous leaks.
2: Ease of Scheduling
Waiting until the last minute can mean being caught in a stampede of other homeowners who also put off their furnace maintenance, making it harder to get a convenient appointment as soon as you'd like.
3: Time for Repairs
If the technician who inspects your furnace determines that repairs are necessary, especially if they require a part that has to be ordered, you'll still have time to get it all done before snow flies
4: Minimizing Repairs
Hitting that cold spell before your inspection and starting up your furnace anyway means there's a risk that you're running it with existing problems. Running it can cause wear and tear and make small problems bigger, resulting in more complicated (and expensive) repairs.
5: Avoiding Emergency Repairs
If you don't have your furnace maintained each fall before using it, there's a higher risk of major problems which require emergency repairs. We do have true 24/7 emergency repair service, and we're happy to help if you need us. But you won't be very happy waiting in the cold, or suddenly having to rearrange your schedule.
6: Extending the Life of Your Furnace
A furnace that is properly, and professionally maintained every year can last a long time. It could be fifteen years or more before you need to replace it! A neglected furnace is likely to fail long before that. If it fails during a January freeze, you'll be miserable, and no one enjoys a large unanticipated expense at any time of the year.
7: Keeping it Under Warranty
When a furnace is new, it is likely to come with a warranty. Part of that warranty agreement often involves having timely annual service done. With a furnace under warranty, major expenses can be avoided or decreased. If your furnace is still under warranty, keeping it that way should be a priority.
Once your furnace is serviced for the year, you can relax and enjoy the many delights of the season, knowing that when winter arrives, your home will be cozy and comfortable.
Reach out to Cooling Unlimited, Inc. for furnace maintenance or any other heating needs.