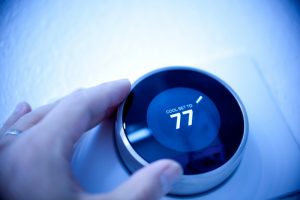 When was the last time that you gave your thermostat any thought? We're sure that you probably don't think about it too often. We find that many homeowners undervalue their thermostat system. It's easy to think of your thermostat as a minor component of your HVAC system rather than the component that's essentially at the helm of your heating and cooling.
There's no way around it—you need a great thermostat system to have air conditioning or heating services. If you need HVAC services in Boston, MA, you can count on our professionals. We work with products from reputable brands and pair this work with great service. Contact our team today.
What's a Smart Thermostat?
So we've stated the importance of your thermostat, but we haven't stated what thermostat you need to upgrade to. You shouldn't upgrade to a newer model of your current thermostat. If you're committed to improving the quality of your HVAC system overall, you should upgrade to a smart thermostat.
What's a smart thermostat you ask? Great question! A smart thermostat is just like any other thermostat system at their base level. It monitors the temperature of your home and sets your HVAC system into motion depending on the temperature. What sets a smart thermostat apart from a standard system is are the Wi-Fi capabilities and the ability to "learn" about your preferences and your home.
Smart thermostats spend the first couple of weeks in your home learning all about your HVAC preferences. Let's say you install a smart thermostat today. Your thermostat will learn when you like to turn on your air conditioner, your temperature preferences, your average length of time, and more. Your thermostat system can come to anticipate your needs and stay two steps ahead of you.
Why You Need One
So all that sounds great, but why should you upgrade to one of these systems?
Wi-Fi Capability: One of the best features of a smart thermostat is its Wi-Fi capabilities. You can turn on your smart thermostat from anywhere in the world while using your smartphone, tablet, or computer. This isn't just a cool selling feature—it's really convenient. This means that you can turn on your air conditioner on a hot day before you even arrive home. This saves you time, money, and energy.
Energy Saving Features: We work with great brands of smart thermostats here at Cooling Unlimited, Inc. We choose thermostats from brands that have great features and prompt you to run your thermostat in better, energy-efficient ways. A smart thermostat takes all the guesswork out of your HVAC services.
Cost Savings: You might be hesitant when it comes to installing a smart thermostat because it's not a cheap endeavor. We understand this hesitation, but trust us, installing a smart thermostat is absolutely worth it. Smart thermostats will save you energy and they'll save you energy fast. Saving energy means you're saving money. Contact our professionals and we'll make sure you have the best HVAC services possible.
Contact Cooling Unlimited, Inc. to schedule an appointment with our professionals for your thermostat services.