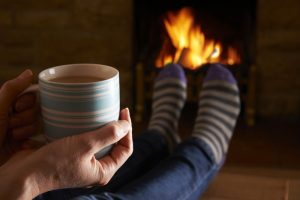 Although many people tend to focus on the importance of furnaces and insulation in terms of keeping themselves warm, there are other things to help you keep cozy. Humidifiers are one of these devices. While they're normally thought of as devices that help improve air quality, they can actually be rather useful as it pertains to helping you stay as warm as possible while indoors. With that in mind, the following is a closer look at how a humidifier in Boston, MA can help you stay warm.
How a Humidifier Can Make You Feel Warmer
There are quite a few ways that a humidifier can make your home feel warm. Here are a few of the ways it does this.
Relieving Dry Air
Dry air is not only hazardous to one's health, but it can also be detrimental to the temperature of your home during the cooler months. Therefore, bringing in a humidifier can be a way to not only improve the health of everyone in your home but it can also allow you to feel warmer throughout the day. So, if your home is relatively well-heated but you still seem to be feeling a bit chilly, installing a humidifier may help you improve this issue.
The Vapor
Although humidifiers do not technically make a room any warmer, they can actually help us feel much warmer while we're around them. This is because the vapor is a natural insulant for the body, which means it helps keep heat from escaping your body, thus, keeping you warmer.
Comfort
Keeping in line with that same thought, a humidifier can help make you feel more comfortable in your home, in general. This is because the air coming from the furnace is prone to be exceptionally dry. So, not only does the air make you feel uncomfortable, but it literally absorbs the liquids from everyone and things inside your home. Moreover, ironically, dry air does not hold heat well, which is one of the top reasons why your home may not feel as warm as it should.
Luckily, by using a humidifier, some of the moisture will be added back into your air, which will make your home feel warmer and much more comfortable. This will also allow you to save money by lowering the temperature on your thermostat. Once you increase the level of humidity in your home, you can then reduce your temperature. Humid air makes you feel warmer and more comfortable than the typical dry air you may be used to. So, once you install your humidifier, you can also look forward to a reduced heating bill.
Looking for a Humidifier in Boston, MA?
Overall, humidifiers can be one of the best ways to help you feel warmer and more comfortable in your home. It can also help you reduce your heating bill. Either way, if you are ready to invest in a humidifier in Boston, MA, we're here to help. Rather than taking the time to shop around or search through the various types of humidifiers on the market, our team of experts can assess your home and recommend the perfect humidifier for your needs.
Contact Cooling Unlimited, Inc. for your heating needs this winter.