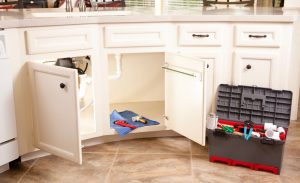 Few appliances in the home are more often used than your garbage disposal, attached to your kitchen sink and charged with grinding up food waste to allow it to slip easily down your drain pipes. Garbage disposals are vital to preventing serious clogs in your plumbing, but like any other appliance, they can run into trouble from time to time. When they do, an enterprising entrepreneur might be convinced to attempt to repair or replace it themselves. In most cases this is a huge mistake, and you can do much better hiring a plumbing service instead of fixing your garbage disposal yourself. Why? Read on for the answers.
Experience
Chances are, you haven't had to fix a garbage disposal before, and might not have the first idea where to begin. Most garbage disposals have a red reset button on the bottom that anyone can push in the event of a shutdown. But if that doesn't work, then you need someone with regular experience in handling garbage disposal issues to diagnose the problem and may a proper repair.
Safety
Garbage disposals can be extremely dangerous if approached incautiously, especially if the issue involves stuck gears or electrical problems. Furthermore, only trained technicians with the proper skills and experience levels can safely identify the source of a problem and get to the bottom of it. That means they can do the job safely as well as effectively, and remove any doubts and worries from your mind.
Reliability
The breadth of experience from a trained repair technician means they can reliably address almost any problem with your garbage disposal, which means the repairs can be made with greater speed and efficiency.
For garbage disposal services of all varieties, contact the plumbers in Cambridge, MA who can do the job right: Cooling Unlimited, Inc.!