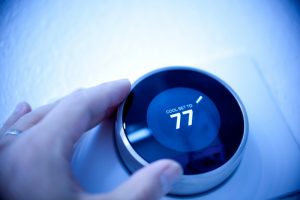 When you think about your HVAC system as a whole, you think about your air conditioner, your heater, your vents, and maybe even your IAQ system… but what about your thermostat? In our opinion, the thermostat is the unsung hero of your home's HVAC system. Yes, you can think of your thermostat as a light switch that turns your HVAC system on and off, but it's important to remember that it's so much more than this too.
If you're looking for a Wi-Fi thermostat in Boston, MA, then you need to make sure that you come to our experts. If you look online, you're going to be bombarded with options for your home. We're the professionals that can help you sort through all this and find the perfect unit for your home. Let's talk more about all of it below…
When to Upgrade
Maybe you've had your thermostat for a while and now you're starting to think… should I upgrade my thermostat? Here are a few signs that you should upgrade your home's thermostat:
Your thermostat readings are incredibly inaccurate
Your air conditioner doesn't start when you want it to
Your air conditioner doesn't stop when you want it to
The temperatures throughout your home are imbalanced
Your air conditioner runs all day long
Your air conditioner runs in short cycles
You've changed the batteries but nothing changed
You've repaired your thermostat and it didn't help
Your thermostat is unresponsive
These are all the signs that it's time for you to switch out the thermostat in your home. Don't ignore these signs. We're going to help you get exactly what you need.
Smart Thermostats vs. Wi-Fi Thermostats
Now let's get into the pins and needles of smart thermostats versus Wi-Fi thermostats.
Wi-Fi Thermostats
A Wi-Fi thermostat is exactly what it sounds like. It's a thermostat that's you can control remotely. This means that you can have precise control over your thermostat no matter where you are. If it's hot outside and you're coming home, you can turn on your air conditioner before you even reach the door.
Wi-Fi thermostats take all the guesswork out of cooling your home. You don't have to worry about anything. If you're interested in a Wi-Fi thermostat, make sure that you come to us. We can point you in the direction of some great thermostat systems.
Smart Thermostats
A smart thermostat is basically a Wi-Fi thermostat with smart capabilities. What do we mean by this? Well, we mean that smart thermostats can "learn" how you like to heat and cool your home. After you install your smart thermostat, the unit spends the first few weeks learning when and how you like to run your home's HVAC system.
After these first few weeks, your thermostat can auto-adjust based on your settings. Smart thermostats work for you. They help you save money, they help you save energy, and they help you cool and heat your home in better ways.
Contact Cooling Unlimited, Inc. today to schedule an appointment for your thermostat work.