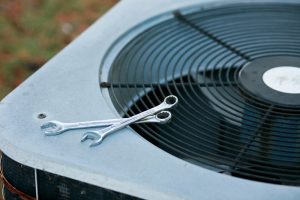 When you turn on your air conditioner, you want to feel a strong, steady stream of air running into your home. Let's say that you're experiencing something a little different: when you turn on your air conditioner over there at home, you notice that the air that blows out of your air conditioner is the lukewarm.
If you're noticing that you have a problem with your HVAC system in Andover, MA, just make sure that you schedule an appointment with us sooner than later. We're here to perfect your air conditioning at home. We know how to help you get what you want.
Why Is this Happening?
Your air conditioner is blowing warm air because you've either got a problem with your air conditioner's compressor or your air conditioning system in running low on refrigerant. No matter what's going on, either scenario is a big problem that's going to need to be addressed sooner rather than later.
If you've got warm air blowing into your home due to a malfunctioning compressor, you're going to need a professional to come out. We'll start with a cleaning of this unit. Sometimes, a malfunctioning compressor can be a problem because all your parts are a little dirtied up over an extended amount of time. If the compressor has just worn out, it's time for you to swap out the part.
Now let's talk about your system running low on refrigerant. We want to assure you than your air conditioner cannot be "running out" of refrigerant although it might seem this way. What's happening to your air conditioner is that you've sprung a leak somewhere in the system and your AC unit is actively leaking refrigerant. You're going to need some serious repair work or potentially a replacement to rectify this.
What You Can Do About It
Okay, so now you understand why you're having the warm air trouble that you're having, but what can you do about it? Sometimes, it just feels like you're sort of helpless as a homeowner when you're looking to repair your home's air conditioner. It can be difficult for you to even know where you need to start. We want to take all the trouble out of your air conditioning system work for you. So what you should do is pick up the phone.
All you need to do is trust a professional for the work. The problem really isn't your direct responsibility to take care of. You need a qualified professional to understand the work that you need and to assess the problems going on in your home. At most, all you need to do is note the symptoms of the trouble going on in your home, note any time of the day that it seems to get worse, and know the best practices for your air conditioner so you don't make the problem worse while you're waiting for professional assistance. Call us today.
Contact Cooling Unlimited, Inc. today to schedule an appointment for your HVAC system work.