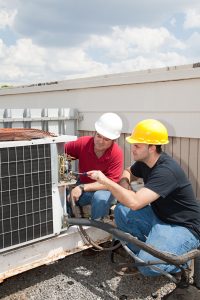 New England winters are as fierce as they come, and this winter looks to be no exception. Your heating system is going to be called upon to function morning noon and night, and commercial HVAC systems are no less vital in that regard. In fact, they're probably even more important, not only because most of us spend at least part of our day in an office, school or commercial space, but because a comfortable environment is vital to keeping your business operating. A good commercial HVAC service, with technicians experienced in commercial systems, can be your best friend when getting your system ready for the winter.
Commercial HVAC Systems Are Unique
Commercial HVAC systems aren't "just like residential systems only bigger." They have specific tasks and needs which need to be met in order to keep your workspace habitable. Many of them are rooftop units, which means they'll be exposed to the elements. (They're built for such exposure but that doesn't change the punishment they'll need to endure over the winter.) If a problem occurs, it could turn your space into a deep freeze in a matter of hours. That will drive customers away and force your staff to work in adverse conditions, or even make you send them home. Even worse, it could damage vital parts of your business, such as stored product or computer systems. And the longer the problem remains, the more damage it will do to both your business components and your bottom line.
Preparation Is Vital
The best way to stop that from happening is by preparing for it now. That means a full-bore service inspection from a trained technician who can give the system a thorough looking over and check for any problems. If the issue can be corr4ected quickly (replacing a loose bolt, for example), the technician can do that. If more serious repairs are needed, you can schedule a time for it that doesn't conflict with your normal operations. (Make sure you hire a service that can work after hours or on weekends, so they won't get in the way of your work force.)
The Benefits Can Be Felt
Anticipating potential problems with your system and correcting them before winter begins is a great way of maintaining the bottom line. In the first case, it lets you finish the repairs well before winter comes: at a time that's convenient to you and your business schedule. Contrast that with scrambling in the wake of an unexpected breakdown, when you must often halt operations and deal with the HVAC problem: costing you time and money in the process. Furthermore, dealing with repairs sooner rather than later often lowers the cost, since the damage hasn't had as much time to spread.
Beyond that, maintenance sessions can often lowering operating costs for your HVAC system: helping it perform more efficiently and lower your monthly bills in the bargain. That also means reduced strain on the system, which in turn lowers the chances of a breakdown later in the winter.
To schedule service on your commercial HVAC system in Reading, MA, call on Cooling Unlimited today!