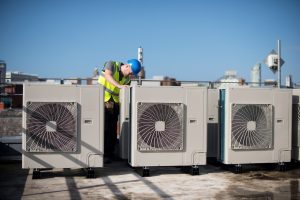 Commercial heating and air conditioning systems perform the same job as residential systems. However, beyond the need to keep the space comfortable and the basic methods to do it, the differences are profound. Commercial HVAC systems are often larger, more powerful and need to address specific issues of your business if you're going to succeed. That means you need a commercial HVAC company that understands the needs of your property, instead of just trying to transpose what they know about residential HVAC systems.
So how can you tell? What kinds of benefits does a commercial HVAC service provide that a solely residential service doesn't? Ultimately, you'll need to make that call for yourself. There are, however, a few guidelines to look for.
Knowledge of the System
Commercial HVAC systems are more than just larger, more elaborate versions of residential systems. Commercial properties often need more precise temperature control, and in the case of multiple businesses housed in the same space, those needs may vary across the building. Rooftop units are common and issues with them need to be addressed differently than in-house spaces.
A good commercial service company will have experience treating your specific system: eliminating guesswork and ensuring that any repair or replacement services take place efficiently. Look for services with affiliations with specific companies like Carrier and Aprilaire: indicating that the manufacturer has full confidence in their ability to correct any problems with their systems the right way.
Speedy Service
In a residence, you can conceivably sit tight for a day or so until a repair service can treat a malfunctioning heater or air conditioner. That's simply not the case in a commercial environment. A loss of heat or cooling power for even a few hours can be disastrous. Customers will stay away, employees will need to be sent home or work in unpleasant conditions, and in many cases important pieces of equipment like computers can be damaged. All of that comes on top of more serious concerns, such as businesses that need precise temperature control to keep products safe.
A good commercial service company needs to respond swiftly when that occurs: getting your system up to speed quickly and keeping your business running promptly. Look for companies that offer same day service and guarantee that the work will be done to your satisfaction without skimping on speed.
After-House Service
Sometimes, getting the job done quickly means staying after hours and working through the night so that the problem with the system is corrected by the time you show up to work the next morning. The same holds true for problems that aren't disastrous, but need to be dealt with without the technician trampling through your employees and customers going about their business. Look for a company that offers emergency services 24 hours a day, 7 days a week, and will do their work in ways that avoid interfering with the day-to-day operations of your business.
If you own a business or manage an office space in the Andover, MA area, and need commercial HVAC servicing, replacement or repair, call on the experts at Cooling Unlimited today!