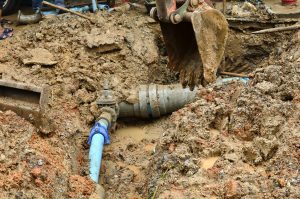 Not so long ago, problems with the sewer line were a huge hassle for homeowners. A breach or clog in the line could back up drain pipes in the entire house and create a host of other issues as well. Treating such problems usually involved extensive digging to unearth the pipe and fix the issue. That meant renting expensive construction equipment and hiring additional workers to do the job. The operation could take days, and when it was done, you usually had a terrible mess to deal with in your yard.
But those days are past. With the advent of trenchless technology, sewer line issues can be resolved without digging. Here's a quick breakdown covering how it works.
Video Cameras
It starts with video pipe inspection technology: sending tiny cameras down the pipe to get an accurate look at what's causing the problem. That prevents the need for fishing expeditions and lets the technician know exactly where the trouble is.
Small Holes
From there, the technician can dig just two small holes, on either side of the problem spot, then run the solution down. That can mean anything from an inflatable liner designed to seal any leaks to a cutting tool designed to break up a stubborn clog.
When the operation is complete, the holes are reburied. The results take just a fraction of the time they would with digging, as well as sparing you the cost of equipment rental and the extra man-hours required. Your problems are fixed and your yard doesn't need the services of a landscaping just to look presentable again. All of that helps cut down on costs considerably, turning a formerly tough job into one considerably easier.
For Lexington, MA plumbers who know how to use trenchless technology, call the friendly pros at Cooling Unlimited today!