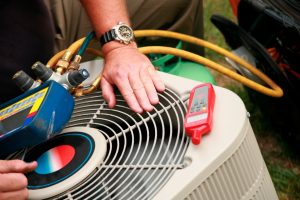 An air conditioner that runs into problems this time of year can really ruin your day. Summers in New England mean high heat, and higher humidity, and if your AC suffers a breakdown, you need to get it dealt with immediately before your home turns into a swamp. But if you have an older air conditioner, getting it replaced might be a better idea than getting it repairs, especially early in the summer with months of daily use ahead of us.
So how can you tell when a system should be replaced and when repairs are enough? Ultimately, only the homeowner can answer that question, but there are a few signposts that can help you make it.
Is the Warranty Still in Effect?
The warranty covers the cost of original parts on the air conditioner for a set period of time (usually 8-12 years, though that may vary depending upon the model). If the warranty is still in effect, then repairs are usually the best option, since you'll only be paying for labor. Even if the warranty has expired, it can still be repaired. But if the warranty has expired, it's a good idea to evaluate the costs carefully. If you feel like the cost outweighs the current worth of the system, it's time to consider replacing it.
What Kind of Costs?
Air conditioning costs come in two forms. The first is repair costs. If a single repair costs more than the system is worth, you'd be better off investing in a new system instead of pouring money into an old one. Alternately, it can be more than two repairs in the same 12-month period, which suggests a system that is wearing down. Or monthly costs could be getting so high that you save money simply by replacing the older system with a more efficient one.
Whether you're repairing your old system here in Winchester, MA, or installing a new one, call the pros at Cooling Unlimited, Inc. to make it happen!