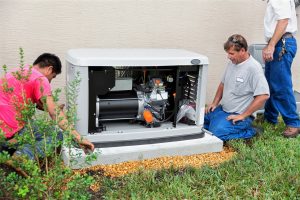 Summertime means inclement weather, including serious thunderstorms and other natural disasters. The same holds true in the winter, when lethal blizzards descend upon New England year in and year out. Our civic electrical grids are used to standing up to such problems, but no system is perfect and a loss of electrical power is something every home should beware of. If you're concerned about such issues – especially if you have a home in a rural area, which is more likely to experience a blackout – there are steps you can take to protect your home. A good electrical generator is an obvious answer.
Generators can be installed by a qualified service technician, running either on separate fuel sources like diesel, or powered by natural gas piped in from a civic source (and which rarely suffers a cut-off the way that the electrical grid does). They can be invaluable in the middle of a crisis, and installing one should be fairly simple. If you're looking at a generator for your home, here are a few things to keep in mind.
Size It Properly
The power levels of a generator are very important: they need to handle the needs of all of the appliances hooked up to it, as well as accounting for electrical surges and the like. You should start the process by scheduling an energy audit with your service technician: accounting for all of the electrical appliances in the home and the power they need to function. Ideally, you can then purchase a generator that can power all of them. In the event that isn't possible, however, an audit allows you to prioritize the appliances in your home. You can thus use the generator to run necessary equipment (such as the refrigerator or medical equipment) and unplug more luxurious items (such as home entertainment systems) until electrical power is restored.
Place It Properly
Placement of a new generator is important as well. The specifics depend upon your needs, the layout of your house and the power of the generator in question. Those that run on natural gas need piping brought in, while those that use diesel and other fuels need to be properly vented. The connection to your home's power grid needs to be handled as well, and above all, the generator needs to be placed somewhere that you can easily reach in a crisis. Your technician can help you with those details.
Make Sure It's Ready
When the power goes out, you're not going to have time to deal with any issues concerning your generator. Preparation is key. If your generator used diesel or similar fuel, make sure you always have enough on hand to last for several days. Every member of your household should know how to operate the generator in an emergency, as well as performing minor maintenance such as replacing spark plugs or other little steps. (Spare parts are just as important as fuel.) Finally, schedule regular maintenance once a year from a trained professional to ensure that the system is always ready to go!
Here in Reading, MA, generator installation and maintenance can be performed by the pros at Cooling Unlimited, Inc.