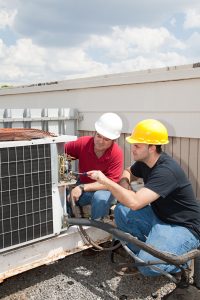 Winter in Boston is something that you have to be prepared for. We know that you're probably in the middle of a pumpkin spice dream because it's fall, but we want to encourage you to take some time to prepare yourself for our cold winter temperatures. We're not talking about pulling out your winter coat and stocking up on hand warmers—we're talking about preparing your home.
We know that preparing your home for winter can be a little daunting. You might not even know where to start. We can help you get the service you need because were the professionals. We specialize in HVAC service in Boston, MA. Come to us when you want work that's going to keep you warm throughout the next few months.
How to Get More from Your HVAC System
Here are a few easy ways that you can get a little more from your HVAC system this winter.
Schedule a Maintenance Appointment
The first step to having a great HVAC system is keeping your system well maintained. It's important to call a qualified HVAC professional to get your HVAC system in the best shape possible. We're the team that's going to make sure that you don't have any problems throughout the winter months. We'll fine tune your home's heating system and work out any small problems before they become major, debilitating issues.
Invest in a Humidifier
A humidifier might be what you need to ensure that you're getting the best heating possible. If you have a home with dry air, it's going to be difficult for you to get warm. "Humidity" is a word that probably evokes negative emotions for you when you consider our hot and balmy summers. The reason that humidity makes heat feel so much worse in summer is because it acts as an insulant for your body. This is a detriment in summer, but it can be your ally in winter. Investing in a humidifier can help you feel warmer in your home with less effort and for a lower price.
Take Your Thermostat into Account
What was the last time that you thought about your home's thermostat? Your thermostat isn't just an accessory to your HVAC system—it's the brain of the entire system. Make sure that you have a thermostat that can really do your home justice. If you still have a digital thermostat in your home, it's time to look into upgrading to a Wi-Fi or smart thermostat. These two systems can revolutionize your home. There are a lot of options on the market today. If you need help picking the right thermostat then are the team for you.
Make Sure You Get Professional Help
You can contact our team of professionals to get all the right HVAC services in Boston. We've worked in homes just like yours since 1986. We work with all the top brands and ensure that all our technicians are highly specialized and trained. Call us today to learn more.
Contact Cooling Unlimited, Inc. today to schedule an appointment with our team. Give us a call to find out how we can meet your heating and cooling needs!